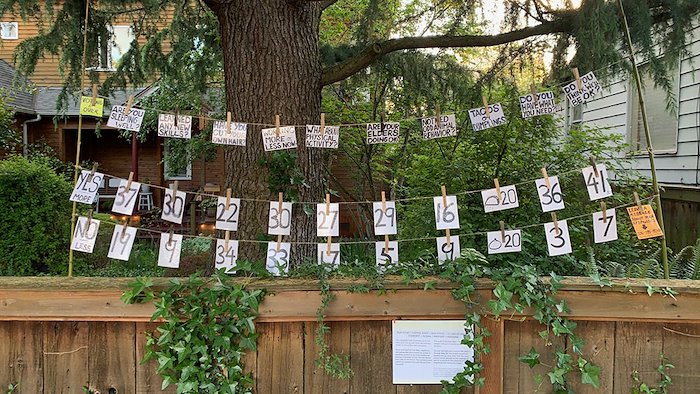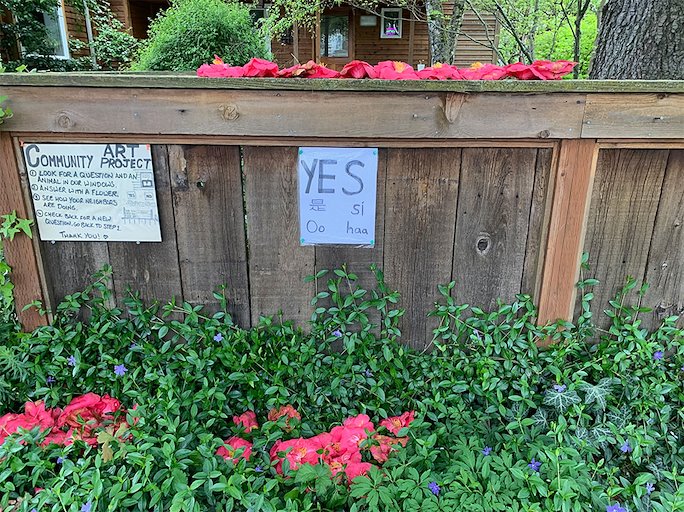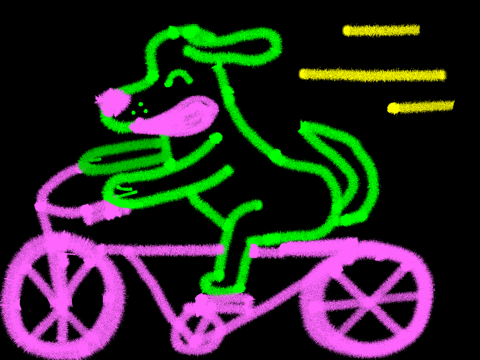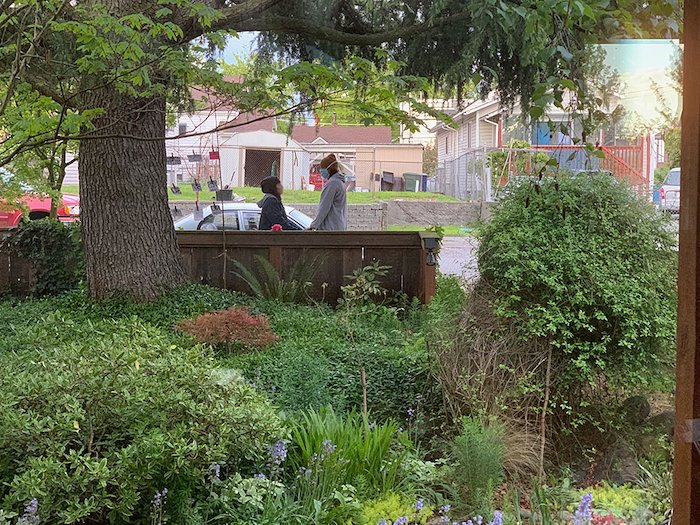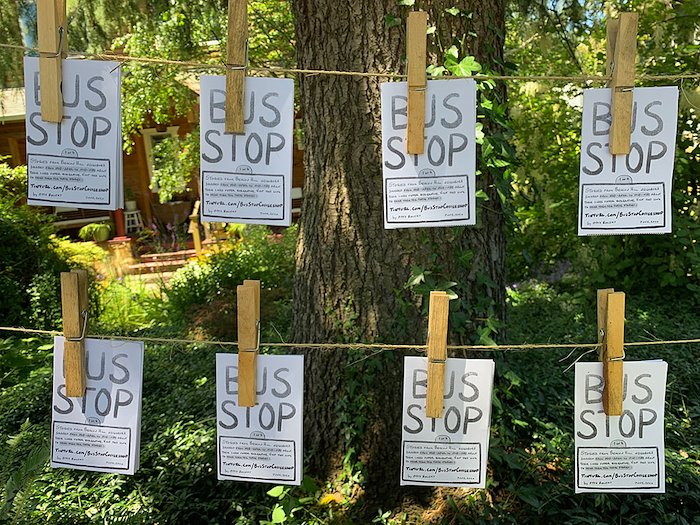 Three weeks or so into Washington State's COVID-19 lockdown, while walking around my neighborhood with a face mask on, people I passed avoided eye contact with me. I noticed I was doing the same. I'd even cross to the other side of the street when I saw somebody coming towards me. I came back home feeling awful. This was not how I wanted to be in the world: fear and suspicion between me and my neighbors.
We were all cut off from each other. This piece was my way of reconnecting. But how to do so safely while maintaining physical distance?
Phase 1
The camellia tree in my front yard was heavy with big, pink flowers. This was the primary means of answering a question that I posed in my window, along with an animation of a local critter doing something silly. I gathered up camellias, wearing gardening gloves, and placed them in a pile near signs on my fence that said Yes/More and No/Less. Neighbors and passersby were invited to answer the question by placing a camellia under their answer.
Every evening, I'd count the votes on each side, and after a few days, would post the tally to a display along the fence. A new question and critter would be posted in my window and the process would repeat.
Phase 2
I added a burner number to the display, asking people to call and leave a message elaborating on any of their answers, e.g. Why aren't you sleeping well? What new skills are you learning?
Security and privacy are important. I figured out a way to receive these voicemails without seeing the telephone number of callers. I also offered to pay a small amount to callers who lost work because of COVID-19. This would mean texting me their Square Cash, PayPal or Venmo info though, which, I explained, would reveal their information to me. Two people took me up on it!
After editing the voicemails together, I played them through a speaker mounted to the big tree behind the display. Visitors could now answer the current question posted in my window, look at the data posted for past questions, and listen to voices from the neighborhood. Altogether, a means of connecting while still maintaining physical distance.
I live near a big park; neighbors and visitors are always passing by. One of the great things about having this piece in my front yard was that I could observe people interacting with it. A good number posed and took photos in front of it. Most often they'd stop, sometimes to read out the current question to each other or some part of the posted data. Then they'd talk. Here are some of the things I observed:
Some weren't sure how to vote, discussing the issue with others before making a decision.

A group of strangers talking about the different skills they learned.

A parent voting very confidently "Yes" to the question "Do You Have What You Need?" and assuming their young child would vote the same. "Actually, I don't have what I need," came the reply. I couldn't hear the discussion, but the child ended up voting "No."

The "Tacos or Dumplings" question was very contentious. Some voted for both, which was OK since this was never about data rigor. But a couple of neighbors told me they were very disappointed in the results (it was a tie). Quite a few people said they were going to order takeout dumplings, which was a nice bonus since a lot of restaurants in our Chinatown/International District were struggling because of COVID-related racism even before the lockdown.

Neighbors on bikes bringing in friends from outside the neighborhood to look at the piece.

Best of all: a couple, holding hands and staring soulfully into each other's eyes as they listened to the audio. I saw another couple, arms around each other, standing and listening for a time.

Many people thanked me when I happened to be in the front yard, saying: they checked it every day, it was something to look forward to, if I would continue doing it.

Kids really got a kick out of it. Making it "kid-friendly" wasn't the intent at all, but this is further confirmation for me that treating children like people, not talking down to them, is the way to go.
Every evening as part of my count, I'd take the speaker down, the data, the signage with instructions and the burner number. Which meant having to put it all back up again the following day, while replenishing the camellias. This was a lot of work, and many times I wouldn't be in the mood. But this labor, much of it emotional, was satisfying: a way to make up for not looking people in the face while I walked around the neighborhood.
I liked that the piece had different aspects depending on the time of day. The data and voting mechanism were posted every morning shortly after 7am. But the audio, out of consideration to my actual neighbors, wouldn't be turned on until 9am. In the evening, the audio would come down first, leaving the data and voting mechanism up for a while before they were taken down for the night.
Tying this piece to nature meant accelerating the pace once the camellias started dying. It was up from mid-April to mid-May, 2020.
Phase 3
I made short video pieces out of the audio and critter animations and posted them online as a record of this moment, in this neighborhood, along this street. Head to Vimeo to see/listen to these pieces: https://vimeo.com/showcase/7182057
Phase 4
A little over a month after taking the piece down, I'm giving away zines from the piece. Featuring excerpts from the voicemails neighbors left behind, there are four issues named after different parts of the larger title: Bus Stop, Coffee Shop / Bar Stool, Class at School / Concert, Flying / Protest, Hugging. All places you might have these conversations with people during a normal time.
Materials used: bamboo, twine, clothespins, brick, index cards, marker, plastic bags, tape, push pins, paper, picture frames, camellias, iPads, extension cords, painters tape, Bluetooth speaker, wood, wire, screws, nail, cardboard box.