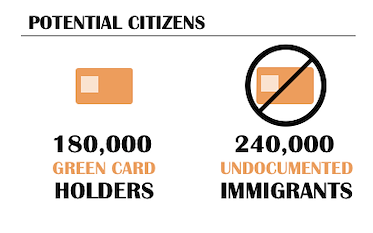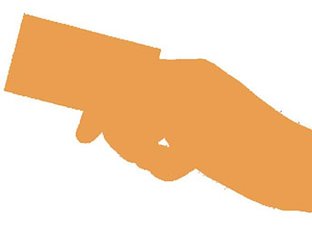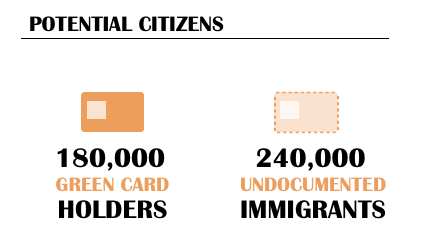 As designers doing social change work, we have to build in our values & question the assumptions that inform our visual language.
A design dilemma presented itself in an infographic project: what iconography to use for undocumented immigrants in Washington State? The stat was to be paired with the number of green card holders in the state. Both fell under the rubric of "Potential Citizens".
Initially, I made a capitol dome as the icon for undocumented immigrants—the implication being they're potential (voting) citizens if immigration reform passed. But I needed to use the dome for a different stat.
First image: Re-using the green card iconography for the undocumented stat but with a 🚫 over it. The feel of this for me is negative, heavy. The 🚫 sign is usually used in forbidding people from doing things: littering, eating, talking. Focusing on lack also reinforces a negative frame around immigration. REJECTED.

Second image: A (literal) green card holder. Flattening the image meant losing too many details. Disembodied body parts are also freaky. REJECTED.

Third image: Reduced opacity green card. Undocumented folks are already here in the country, they do have documentation, many are in the shadows. FINAL.