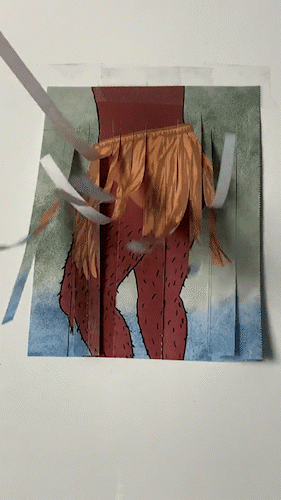 How do you make air visible? Imperialism? Desire? Butts?
Questions that Americans asked me after I moved to the United States for college are combined with fantasy imagery of the native to make colonial desire visible.
But desire can flow both ways, especially in a place as homophobic as The Bahamas. As a boy, every now and then, I'd see two tourists at the beach, men, wearing Speedos and laying their towels right next to each other on the sand. I didn't know why at the time, but I couldn't stop staring.
Tan lines became fetishes for me after moving to Miami and coming out. They figured prominently on the men I met in real life and "mainstream" gay porn, reinforcing (sub)cultural norms of desirability: white, muscular bodies, all the best parts outlined. The colonizers' desires aren't the only ones made visible here.
Made in Kelli Anderson's Fall 2021 Paper Engineering class (https://kellianderson.com/). I have ideas on how to adapt this piece as a larger, interactive installation. Gotta keep my eye out for opportunities!
View the full 30-second video with audio here: https://vimeo.com/662437061