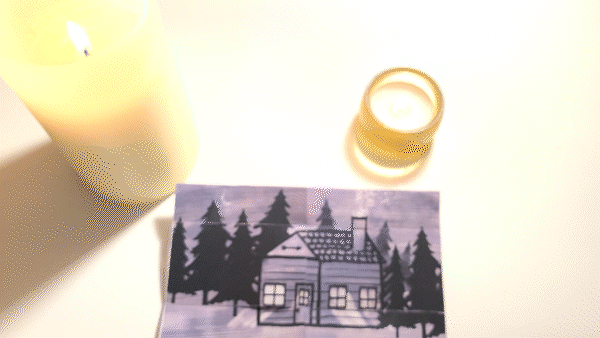 I wanted to make a collaborative paper piece. Maybe it's the ongoing pandemic and the fact that I've started isolating again because of the Omicron variant. Or the fact that it's winter in Seattle—dark, cold, wet, snowy—which often makes me feel cut off from everybody anyway, even before COVID.
Increasingly, performance is something I think about incorporating into my work. A couple years ago, I took a "Creative Harmonies Through Intuitive Listening" workshop with West of Roan (http://www.westofroan.com/). They taught us one of their pieces, a sweet song, two parts sung a cappella called "Trim the Wick." It felt really appropriate to these dark days and my state of mind. I'm so happy my classmates, Margo Yoon and Samantha Caruthers-Knight, were willing to trust my vision and be vulnerable: we each recorded ourselves singing alone (terrifying!) so I could edit the audio files together.
Presented "A Paper Performance for a Dark Winter's Night" as a final project for Kelli Anderson's Fall 2021 Paper Engineering class (https://kellianderson.com/), which was conducted over Zoom with fellow classmates all over the world. To create a mood, a shared sense of space and coziness appropriate to what I long for and wanted to share with others, I asked everybody to bring candles and matches, or videos of lit candles on their phones, to my presentation. They came through.
Watch the full video with sound here: https://vimeo.com/662138337