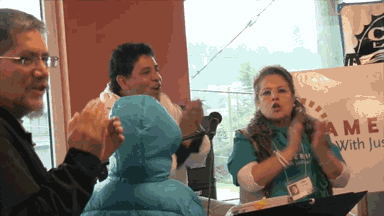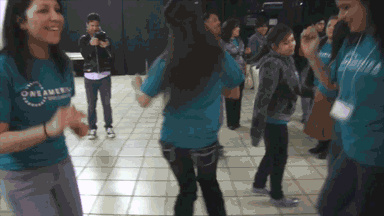 Work in progress, 3 of 3 (FINAL) – I needed to remember joy; that part of what makes OneAmerica's work so effective, even under such challenging conditions, is that there's dancing, laughter and singing in it too. This is part of the organization's brand, and a large portion of why donors and supporters attend their annual fundraiser.
I simplified their script to be less about data points and tried to nudge it more towards what they said they wanted people to feel when watching: awe, respect, inspired. Rather than explaining everything—impossible to do in 15-seconds—I took visceral details from the experience of being a rider and put them into the visuals:
Multiple languages to show the diversity of nationalities, but also the challenge of communicating with each other.

Distances traveled, arranged in reverse chronological order—state, West Coast, cross-country—to create a sense of progression and higher stakes (longer time spent away from family).

A range in issues: workers' rights, family unity, comprehensive immigration reform.

The inclusion of a Muslim woman to show religious diversity, recall how the organization started and highlight how it embraces Muslims in an increasingly intolerant climate.

Most importantly, singing! A recognizable song in Spanish that those within the movement would recognize. (They're singing it in the gif above.)

Color, the teal from OneAmerica's brand, slowly seeps in as a highlight.
I wanted each animation to have a distinct look, choosing charcoal on paper for this second piece to convey a sense of grittiness from being on the road. The shaky, boiling technique, especially in the bus interior scene, takes on a tactile feel: those bus rides were bumpy!
There's always been (benign) tension within the movement that it's not just Latinx people affected by these issues. Selecting languages for the interior scene took several passes. Keeping in mind who was on the bus, but also, who would be watching the animation at the event, I did Somali, Japanese and Spanish; all saying different things: "Are we there yet?", "I'm hungry," and in an early version "Who farted?" 😂
These phrases, spoken in different languages, signaled that even though the riders couldn't all understand each other, they had similar thoughts: banal, human, absurd. But the time limit, once more, forced me to simplify. I decided it was more important that viewers understand what was being said.
"Are we there yet?" invokes road trips, but also comments subtly that while the theme of the event was "15 Years of Justice for All," we haven't arrived yet. So donate more money to support this work! All 3 languages were adjusted to say the same thing and be onscreen simultaneously. And my fart joke dissipated into the air.
The 15-second time limit was a real challenge. "Comprehensive immigration reform," alone is a mouthful, and takes up precious time for the viewer just to register. I tweaked the timing all over the piece but it still feels rushed to me. The fact that it's a loop, and a short one, ameliorates this since viewers can catch what they missed the next time around.